It's the last day of the year and the time to look at some of the highlights of 2022, some traffic statistics from CNX Software website, and speculate on what 2023 may bring us.
The semiconductors shortage continued in 2022, but things are looking brighter in 2023 with the full reopening of the world mixed with forecasts of difficult economic times that should keep the demand/supply equation in check.
On the Arm processor front the biggest news of the year, at least in this corner of the Internet, was the launch of the Rockchip RK3588 octa-core Cortex-A76/A55 processor together with interesting single board computers that we'll discuss below. Announced last year, the Amlogic A311D2 octa-core Cortex-A73/A53 was finally made available in a few SBC's, and we finally got some news about the Amlogic S928X Cortex-A76/A55 SoC showcased in 8K TV boxes, but we have yet to see it in action. 2022 was yet another quiet year for Allwinner with more mostly boring Cortex-A7 processors such as the
V3LP and V851S for camera applications or the T3 for automotive infotainment.
We also got a fair share of RISC-V news, with the new open architecture progressing nicely with Intel getting involved, the announcement of new cores such as SiFive E6-A, X280-A, and S7-A for the automotive market, MIPS eVocore P8700, or Andes AndesCore AX65, as well as some of the first RISC-V SoCs with a built-in GPU including Alibaba T-head TH1520 and StarFive JH7110. Software support progressed as well, with notably Canonical adding Ubuntu support to a few RISC-V SBCs.
In the x86 world, Intel Alder Lake hybrid processors became available for the mobile (U and P-series) and embedded/IoT markets, but so far, we've only reviewed the Beelink SEi12 mini PC with an Intel Core i5-1235U processor with 2 'performance' cores, 8 'efficient' cores, and Intel's Iris Xe Graphics. AMD launched the GPU-less Ryzen Embedded V3000 Zen3 processors designed for high-end storage and networking applications, as well as the AMD Ryzen 5000 C-Series optimized for business Chromebooks. Several of Ian's reviews included "new" mini PCs with CPUs that were released a few years ago, probably to work around the supply shortage.
Several interesting new single board computers were introduced in 2022, many based on Rockchip RK3588(S), such as Radxa Rock 5 Model B, Khadas Edge2, FriendlyArm NanoPi R6S, Orange Pi 5, among others. Khadas VIM4 with Amlogic A311D2 octa-core Cortex-A73/A53 processor is another highlight of the year. There were also some Linux RISC-V SBC announcements, but not many shipping yet, although some people have started receiving the StarFive VisionFive 2 SBC, and mine should arrive next month. Hardkernel also launched a few boards this year with the ODROID-M1 (Rockchip RK3568B), ODROID-N2L (Amlogic S922X), and ODROID-H3/H3+ (x86). Raspberry Pi Trading did not launch any new Linux SBCs in 2022, as they worked through supply shortages.
However, the company did launch a new board with the Raspberry Pi Pico W combines the RP2040 microcontroller with a WiFi 4 module since there were no shortage issues on that side of the business.  Espressif Systems announced the ESP32-C5 (dual-band WiFi 6 and Bluetooth 5.0 LE) and ESP32-C2/ESP8684 (2.4 GHz WiFi 4 and Bluetooth 5.0 LE) IoT microcontrollers, but only the latter is available so far. Some ICs unveiled in 2021 including the ESP32-H2 for Zigbee and the ESP32-C6 with 2.4 GHz WiFi 4 and Bluetooth 5.0 are still yet to become available. We did have plenty of third-party introduced boards with ESP32-C3 and ESP32-S3 however, and the company also released or showcased some software/firmware solutions such as ESP-Hosted and ESP-WIFI-CSI.  Bouffalo Lab also unveiled some interesting wireless microcontrollers such as the BL616 with WiFi 6, Bluetooth 5.2, and Zigbee, and BL808 was found in the Pine64 Ox64 SBC and Sipeed M1s module. The semiconductors supply shortage also meant we had more STM32 clones/alternatives such as the MM32, Air32F103, FCM32, etc…
We did not cover LoRaWAN and NB-IoT standards as much this year, mostly because there's nothing really new here apart from the launch of the Semtech LR1120 for global asset tracking. I was expecting a lot more news about the 802.11ah HaLow standard, notably in IP cameras, but it did not really materialize, and the same is true for UWB (Ultra-wideband) used for indoor positioning, proximity detection, and data transmission. What appears to be gaining traction is the Matter protocol to improve interoperability in the Smart Home with many companies announcing support, and the Matter 1.0 specification approved in October.
Top Ten Posts of 2022
We'll use Google Analytics data to list the 10 most popular posts in 2022 using pageviews as a metric. Here are the top ten posts of the year in reverse order:
ROCK5 Model B RK3588 single board computer is up for pre-order for $79 and up (January 2022) – Rockchip RK3588 Cortex-A76/A55 processor was highlighted anticipated, and people were interested in finding out more about one of the first SBC based on the SoC.
Orange Pi 800 Keyboard PC – A Raspberry Pi 400 alternative powered by Rockchip RK3399 (September 2022) – One recurring comment I read in 2022 was how difficult it was to buy Raspberry Pi hardware, and Orange Pi 800 keyboard PC offered an alternative to the Pi 400.
$60 Raspberry Pi Mini Tower NAS kit takes one M.2 SATA SSD (September 2022) –  Raspberry Pi enclosures rank high in the list almost every year, and this mini power kit caught people's attention with a complete kit that's similar to the SunFounder Pironman case I have just reviewed.
The death of transformers? AC Direct DC Enabler is a solid-state solution for AC-DC power supplies (January 2022) – A tiny chip that could replace larger AC-DC transformers. That sounds interesting and that's exactly what Amber's solid-state solution promised.
Orange Pi OS – An Android-based desktop OS with Windows 11's look and feel (November 2022) – Orange Pi boards are known to typically rely on images from the community, but Shenzhen Xunlong Software developed their own with Orange Pi OS, currently based on Android and with a user interface similar to the one in Windows 11.
Cool Pi 4 Model B – A much faster alternative to Raspberry Pi 4 SBC (December 2022) – I was not surprised to find the Cool Pi 4 in the list of the top posts of 2022 as a Raspberry Pi 4-shaped Rockchip RK3588 SBC that packs the performance of 3 to 4 Pi 4 boards sounds pretty cool to me.
Home Assistant launches SkyConnect USB stick with Zigbee, Thread, Matter support (October 2022) – People have been using third-party 802.15.4 USB sticks with Home Assistant for a while, but the project/company decided to launch their own with the SkyConnect USB stick supporting Zigbee, Thread, and Matter.
1-Stream IPTV streaming software offers an alternative to Xtream Codes (March 2022) – That one is a bit off-topic, but somehow many people read this article about a new IPTV streaming software providing an alternative to Xtream Codes.
Android 13 virtualization lets Pixel 6 run Windows 11, Linux distributions (February 2022) – Google had a hidden gem in Android 13: virtualization. That was mostly for security improvements and sandboxing, but the community shortly found out they could also run other operating systems on the Pixel 6 including Windows 11 and various distributions.
Turing Smart Screen – A low-cost 3.5-inch USB Type-C information display (April 2022) – When I first saw the Turing Smart Screen, I almost skipped it, but I finally wrote about the small and inexpensive 3.5-inch display that can show CPU and memory usage, and other system data, as I thought a few people might still be interested. The post ended up being read over 120,000 times.
So we got a mixture of single board computers, Raspberry Pi accessories, power electronics, Smart Home, and software news. None of the reviews, which take much longer to complete, made it to the top.
CNX Software 2022 traffic statistics
This year we published 881 articles including that one, which compares to 901 posts in 2021, and 922 in 2020. It looks like I'm in decline… We did reach some milestones with over 10,000 posts published since the beginning of CNX Software, and over 100,000 comments have been approved.
I have to say it's been harder to find interesting news since fewer companies launched products, and some days, I could find myself spending 3 to 4 hours browsing the web to find a topic. I also spent some more time on the Thai website, and Miss Suthinee Kerdkaew is now working full-time to translate articles into Thai and communicate with reviewers and companies in Thailand.
Let's check out the top countries and cities with Google Analytics.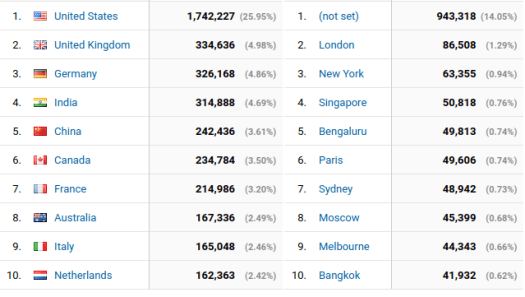 The United States remains the top country with 25.95% of the share of visitors followed by the United Kingdom (4.98%) and Germany (4.86%). China held the second spot in 2021 but has now dropped to the fifth position. Australia and Netherlands are new entrants pushing Russia and Poland out of the top ten. The top cities are London, New York, and Singapore. Tianjin was the top last year, likely due to a glitch or bot, but it's gone, and Seoul – 2021's number 3 – has been kicked out of the top 9/10 list as well.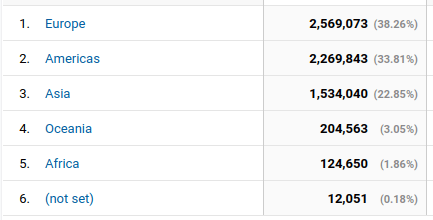 If we look at the data in terms of continents, Europe is on top, followed by the Americas, and then Asia.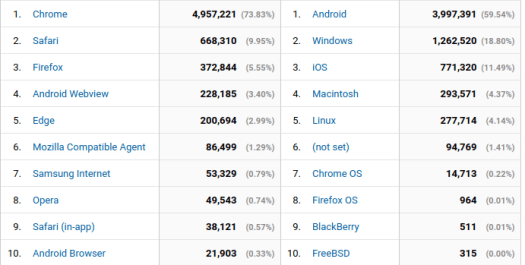 Chrome market share continues its upward trajectory with 73.83% of visitors using Google's browser in 2022, against 66.20% last year. Both Safari (10.85% to 9.95%) and Firefox (8.26%  to 5.55%) further dropped, which makes me sad as a Firefox user both on desktop and mobile. Android was by far the most used operating system with 59.54% followed by a distant Windows at 18.80% and iOS at 11.49%. Linux's share of traffic dropped to 4.14% against 6.16% in 2021.

As you may have guessed from the list of operating systems, most of the traffic comes from mobile devices which had a 67.24% share in 2022. It was 56.21% in 2021. Yet the overall traffic to the desktop version of the website has actually increased (1.94 million sessions vs 1.83 million sessions) due to an overall increase in traffic from all sources. 2022 has been a good year for CNX Software possibly due to the work I did to optimize the website in 2021.
Looking ahead to 2023
I'm hoping 2023 will be the end of the supply shortage, so instead of writing about $200 Raspberry Pi boards, I'll be able to write about cheap hardware or discounted boards more often. The RISC-V Linux (and Android) SBCs should be heating up with greater availability for the StarFive VisionFive 2, the launch of Sipeed Lichee Pi 4A, Pine64 Star64, and others that have yet to be announced.
I'm not expecting much out of Rockchip and Allwinner, since the former already launched the RK3568/RK3588, and the latter will probably come up with a few more Cortex-A7 processors… Amlogic should finally launch the S928X Cortex-A76/A55 processor, but it may mostly be found in TV boxes, and I'm not sure about S928X SBCs. Time will tell. Some hardware based on MediaTek Genio 1200 Cortex-A78/A55 AIoT processor would be interesting, and we've seen some announced in 2022 such as the I-Pi SMARC 1200 development board, which should become available in 2023. NXP i.MX processors should also get back in the news after a quiet year with the first NXP i.MX 9 modules and boards coming out soon. We may also start to see the first entry-level Armv9 processors with Cortex-A510 cores.
With China scrapping its zero-COVID policy, and after a potentially difficult start of the year, I'm expecting more IoT chips to come out, notably, Espressif should finally launch ESP32-C6, ESP32-C5, ESP32-H2, and others. We should also see a lot of Matter announcements from silicon vendors and companies and projects providing Smart Home solutions. Machine Learning capabilities should be found in even more microcontrollers, and possibly a new Raspberry Pi microcontroller with AI extensions might be announced since Eben Upton already talked about this in 2020. I would also have expected to see 5G LPWA chips and kits by now, but maybe it will happen in 2023.
Let me be joined by a few review samples from 2022 to wish everybody a very healthy, prosperous, and happy new year 2023!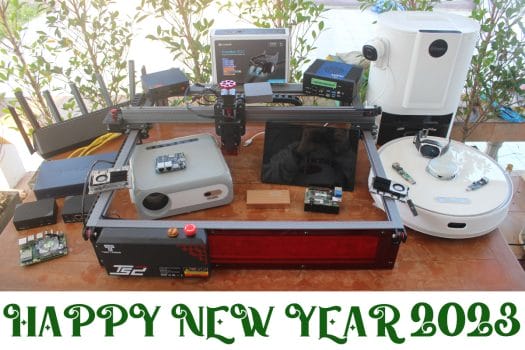 Jean-Luc started CNX Software in 2010 as a part-time endeavor, before quitting his job as a software engineering manager, and starting to write daily news, and reviews full time later in 2011.