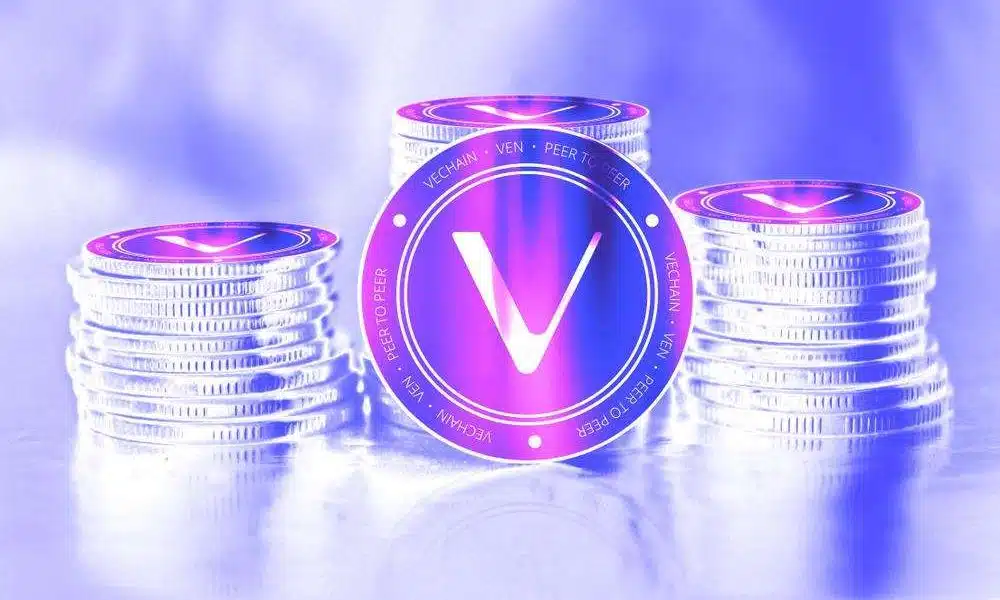 VeChain-backed game Metaverse ExoWorlds has released a white paper.
The protocol is intended to enhance the user experience in today's trillion dollar gaming world.
---
There are many ways to measure the growth of blockchain-based networks, whether it's a layer 1 or 2 protocol, or a gaming platform. One of these methods is the debut of an in-depth white paper. This is a movement that captures the project's vision and action plan, as well as the roadmap for achieving the set goals.
This is the stage of the Vechain-based Play-and-Earn gaming platform. Exo Worlds became. ExoWorlds is an open-world metaverse where creators can build, explore, and conquer validated galaxies. ExoWorlds is building a strong community of followers as it seeks to take exploration of the Metaverse to a whole new level.
White paper released 📖

Finally! ! ! The time has come! 👨‍🚀 The white paper is out!come explore #ExoWorlds Join us on this amazing adventure with a confirmed galaxy! 👇https://t.co/6Wmktg9Yus#VeChain #VeChainHasNFTs #VeFam $VET $EXO #ETH #BNB

—ExoWorlds (@ExoWorldsNFT) January 30, 2023
Insights into the whitepaper
ExoWorlds is branded as a next-generation sci-fi MMORPG, built on Unreal Engine 5.1 and secured on the VeChainThor blockchain, as described in a published whitepaper. The platform is proud to be driving the creation of first-of-its-kind open-world experiences in the broader Web3.0 ecosystem.
Combining an incredible themed story, engaging graphics, and reliable technology, ExoWorlds is able to impress its target audience with an unparalleled user experience.
The gaming platform will be powered by a total collection of 10,000 Planet Non-Fungible Tokens (NFTs). Unlike other layered NFTs, according to ExWorlds, the NFTs are procedurally generated in Blender using real texture data and rendered over months on different GPU rigs.
According to the roadmap detailed in the whitepaper, the protocol began with the sale of procedurally generated NFTs in February 2022. Going forward, ExoWorlds said it would focus on launching his prototype metaverse, which took about seven months to create. The Metaverse prototype has already started testing at Blockchain Rio, the largest blockchain conference in Latin America, and has been a huge success.
No release date has been set for the ecosystem tokens, but ExoWorlds plans to have a public token sale later this year. The protocol said it designed its token with carefully designed tokennomics that help promote sustainability in the ecosystem.
Users with access to tokens can also stake or lock them and be rewarded with in-game assets. After its debut, ExoWorlds emphasized that the token will be launched on both centralized and decentralized exchanges.
No spam, no lies. Insight only. You can withdraw at any time.
Founding member pedigree
There is a popular belief that the strength of a blockchain protocol can be determined by a deep appreciation of the lineage of its founding team members. Published white paper The founding team of ExoWorlds is led by VeChain Stats partner Lucas Saint Laurent, VeChain's leading block explorer. Lucas, who studied mathematics at Johns Hopkins University, is also the founder of Cryptographic Studio.
The ExoWorlds team also includes Chief Operating Officer William Campbell and Chief Marketing Officer Ronnie Mueller.Their collective experience led them to make his ExoWorlds Published white paper.
Crypto News Flash does not endorse and is not responsible or liable for the content, accuracy, quality, advertising, products, or other materials on this page. Readers should do their own research before taking any action related to cryptocurrencies. Crypto News Flash shall not be liable, directly or indirectly, for any damage or loss caused or alleged to be caused by or in connection with use of or reliance on any content, goods or services mentioned. I don't owe you.