Quick Links
What To Know When Visiting
How To Spend A Perfect Day In Bend
Located in Oregon, Bend lies on the eastern edge of the Cascade Mountain Range along the Deschutes River and is one of the top-rated places to visit in Oregon. The town has a dry, high-desert climate, with moderate days and cold nights. Originally a logging town during the 1900s, Bend has transformed into a beautiful tourist destination for outdoor sports, including mountain biking, fishing, hiking, camping, rock climbing, white-water rafting, skiing, paragliding, golfing, and more.
As of 2023, the town is also home to the last Blockbuster video rental store. That's not the city's only claim to fame though; here's everything to know about Bend, Oregon, and how to explore it.
Best Time To Go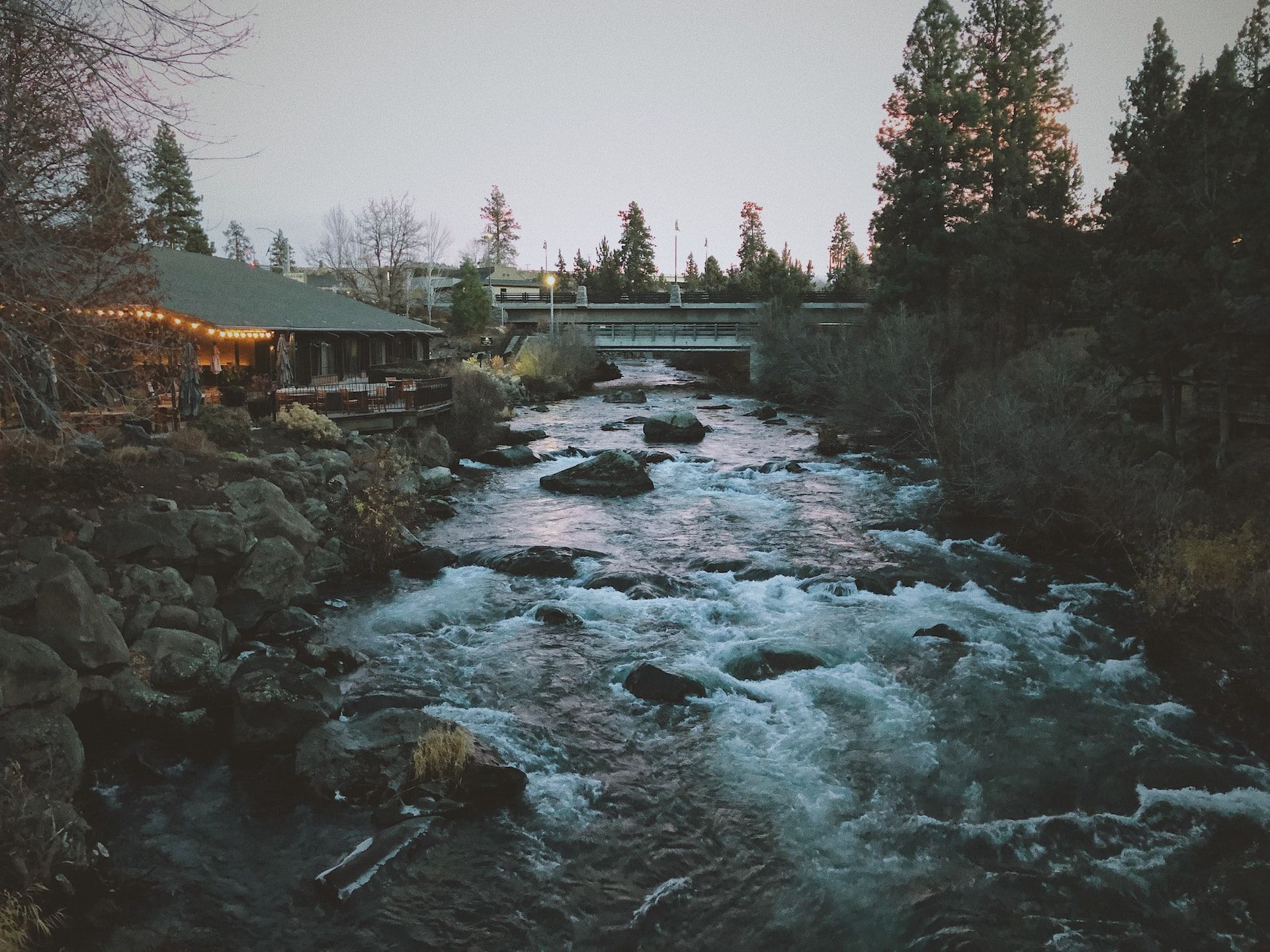 A river in Bend Oregon
Bend has a semi-arid climate characterized by sunny days and cold nights. Depending on the nature of the trip, travelers can choose any of the four seasons to visit this beautiful town.
Summer
Bend comes alive during summers. The landscape is lush green, with summer festivals buzzing the city during the first week of July.
Long sunny days are perfect for fishing and hiking, and all the high-elevation trails are mostly snow-free. The afternoons get hot but quick access to the river, famous breweries, and water sports help travelers cool off.
Winter
Winter adds a different soul to this town. Days are characterized by cold weather and colder nights with snow all around.
Sports enthusiasts can indulge in skiing, sledding, snowboarding, and other snow activities at Mt. Bachelor.
Spring
Spring in Bend is unarguably one of the most beautiful! The temperature remains mild with cold evenings. The whole Bend forest comes to life with a beautiful splash of colors.
April is when the Bend Spring Festival comes to the town and fills the surroundings with music, artists, wine, and food!
Fall
Fall is the best season to visit Bend, OR if travelers want to avoid crowds. The days are still sunny with chilly weather, and the shades of autumn are spectacular scenery to witness in the town.
By October, tourists start leaving and hotels may offer more affordable off-season rates.
What To Know When Visiting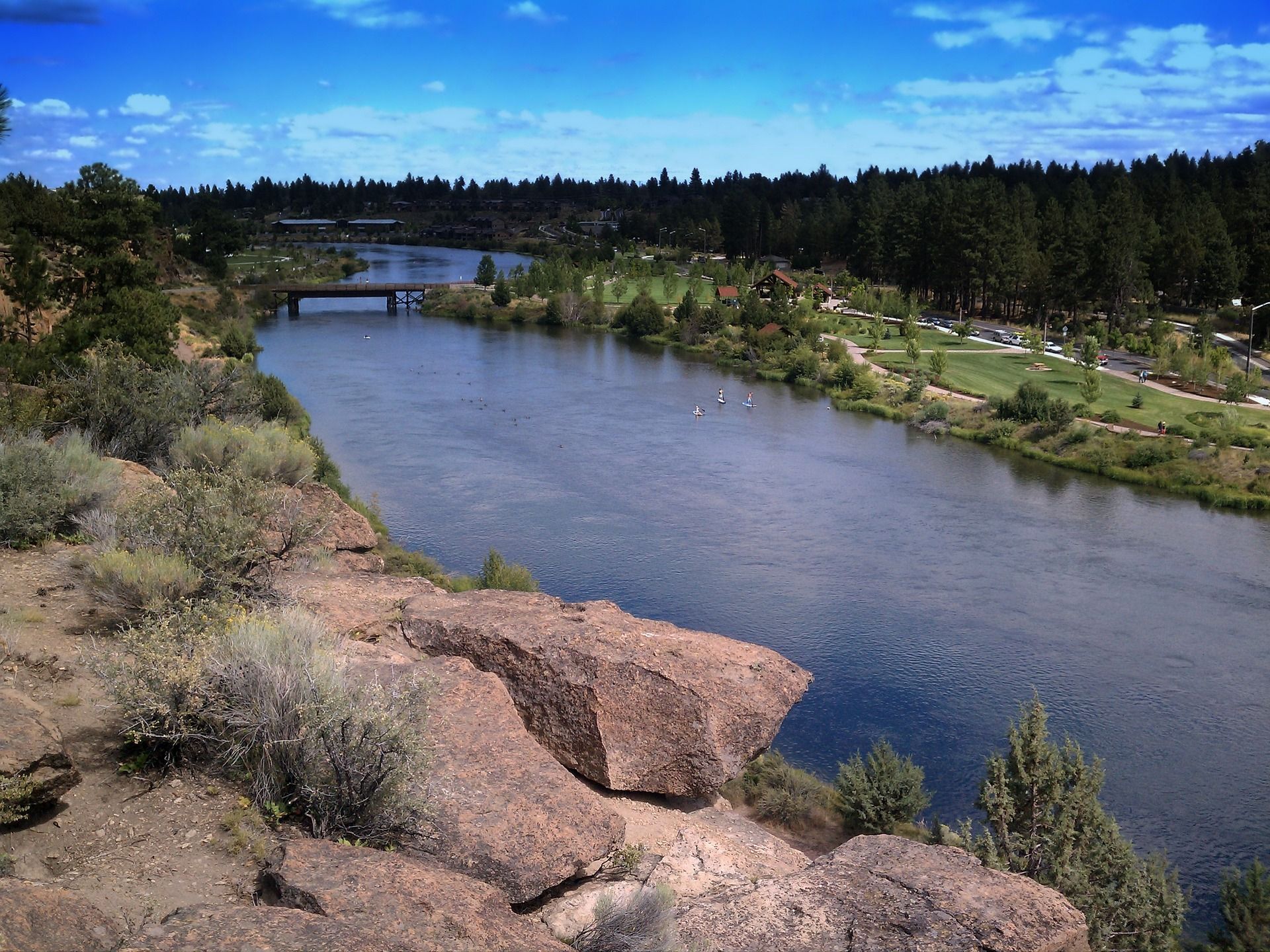 Ariel view, Bend
Travelers may need permits for outdoor activities
Driving (and parking) can be challenging during peak seasons
Downtown Bend has metered parking that can be paid for via a smartphone app for all central areas.
Best Ways To Get Around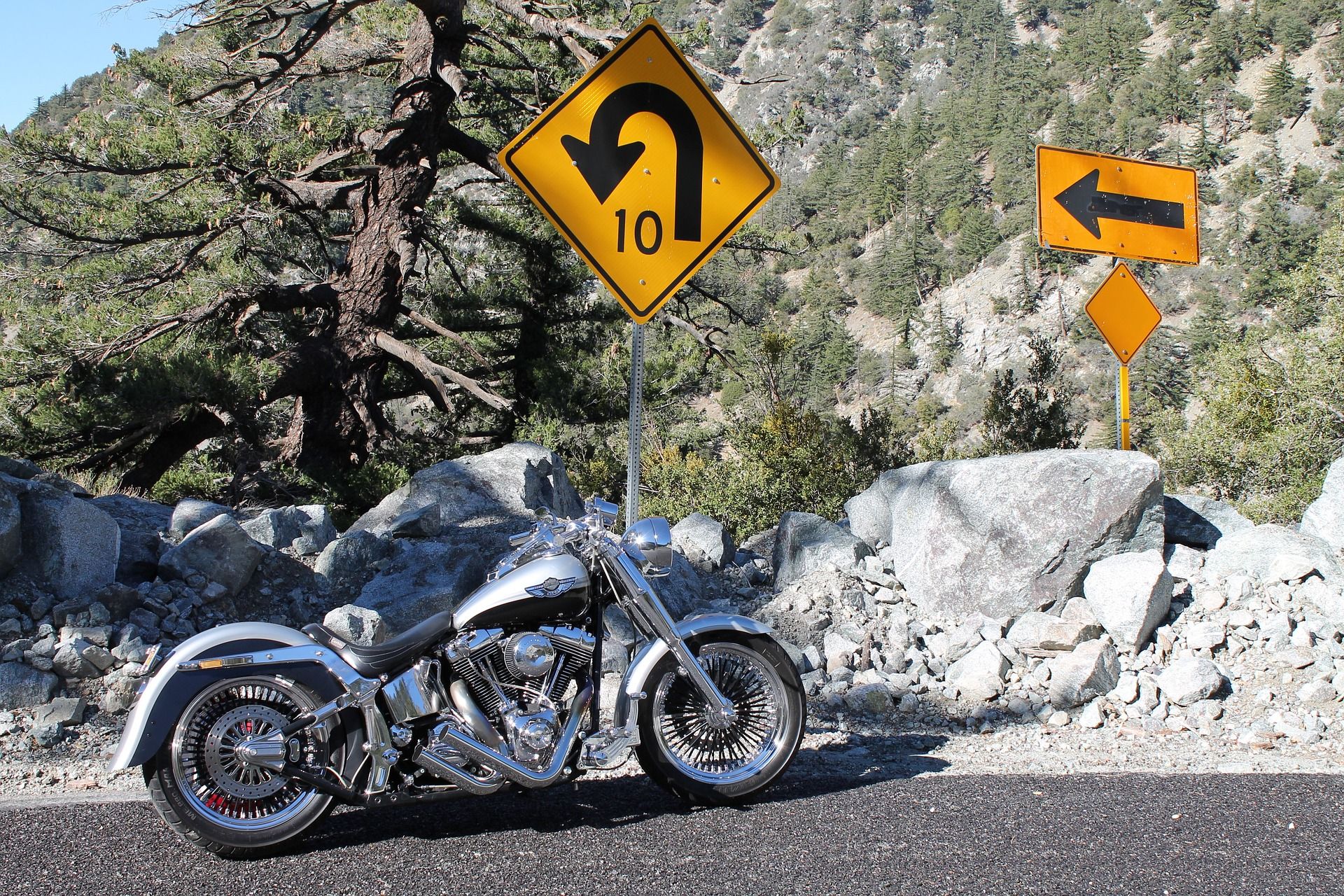 Road to Bend, Oregon
The easiest way to reach Bend is via plane. The Robert Field Airport (RDM) is a 20-minute drive from downtown Bend.
Bend has an extensive public transportation system;
Related: Bend: The Perfect Oregon Base To Explore Volcanoes & National Forests
The town also offers a lot of other alternatives like biking, skateboarding, inline skating, and scooters. Electric bikes have started picking up and are a favorite among travelers.
Uber and Lyft are also available on demand; Bend has extensive bike paths and lanes, yet downtown is best explored on foot.
Where To Stay
Bend, Oregon
As a growing tourist destination, Bend offers a variety of stay options ranging from B&B, world-class resorts, and cosmopolitan hotels, along with options of vacation rentals and Airbnb. Many hotels here offer a place for tourists to store outdoor gear like bikes, skis, and kayaks and arrange bikes for guests on demand.
The town also has RV parks and provides camping gear rentals for tourists. Check out TruNorthwest Exchange.
Make reservations well in advance, especially for the high season.
The Oxford Hotel
Location: Downtown Bend
Amenities: This hotel has received various awards like the Travelers Choice award and Conde Nast Traveler Reader's Choice award. The hotel is a non-smoking property and offers room service, a sauna, steam room & hot tub, Tesla charging stations, dry cleaning, complimentary cruiser bicycles (during summer), and complimentary local shuttles.
Price:$$-$$$
McMenamins Old St. Francis School
Location: Downtown Bend, 600 m from Drake Park
Amenities: Offers a one-of-a-kind experience. It is a former schoolhouse from 1930. The rooms at the property come with a flat-screen TV with cable channels, bathrobes, and toiletries. There is a gift shop at the property that keeps guests busy. Guests can also avail themselves of complimentary access to the on-site soaking pool. The Old St. Francis Pub offers handcrafted beer from the on-site brewery.
Price: $$$
Red Lion Hotel Bend
Location: Near River's Edge Golf Course and Bend River Promenade.
Amenities: The property is pet-friendly and provides free parking, complimentary hot deluxe continental breakfast, and 24 hours front desk service. Rooms come with free Wi-Fi, cable TV, and other essentials.
Price: $
Riverhouse on the Deschutes
Location: North Highway 97, Bend, 5 minutes drive from downtown
Amenities: The property provides pet-friendly accommodation with free Wi-Fi, a restaurant and a seasonal outdoor pool, a hot tub and fitness center, a bar, and 24-hour front service. Rooms come with a flat-screen TV with cable channels, a coffee machine, a microwave, a refrigerator, toiletries, and a hairdryer. Each room also features a private patio or balcony,
Price: $$
Sunriver Resort
Location: Located close to the Cascade Mountain Range and top-rated ski trails, 20 min south of Bend on Hwy 97
Amenities: One of the biggest resorts in Central Oregon, the property offers various recreational activities and amenities with two swimming pools, on-site spa and massage services, free parking, free Wi-Fi, a coffee maker in each room, restaurants, and a bar.
Price: $$
Bachelor Village Resort
Location: Located on the edge of the National Forest, right above the Deschutes River, the property is a short walk from downtown Bend and the Old Mill district.
Amenities: Free parking, free Wi-Fi, pool, fitness center, children's playground, electric vehicle charging station, indoor pool, outdoor pool, outdoor fireplace, laundry service. Rooms come with a private balcony, coffee/tea maker, TV, kitchenette, oven, and hairdryer. Guests can access the beautiful Mount Bachelor Village Resort Nature Trail from here.
Price: $-$$
Hampton Inn & Suites Bend
Location: Located near River Bend Park, Old Mill District is a 2-minute drive away.
Amenities: Swimming pool, free Wi-Fi, Free parking, AC, private bathroom, 24-hour front desk, key card access, daily housekeeping, non-smoking rooms, safety deposit box, indoor swimming pool, complimentary hot breakfast buffet daily, cable flat-screen TV, air conditioning, coffee maker, fitness center, and laundry facilities
Price: $$
Tetherow Hotel
Location: Located on Skyline Ranch Road, bordering Deschutes National Forest in Bend
Amenities: The hotel has on-site restaurants and provides access to a semi-private golf course. The rooms have a flat-screen TV with cable, a microwave, a refrigerator, and a coffee machine. The property offers complimentary shuttle service to downtown and the airport, a fitness center with steam and sauna, a swimming pool, and free parking.
Price: $$-$$$
Bunk & Brew Historic Lucas House – Hostel
Location: Located near downtown, 550 m from shopping centers, breweries, and restaurants in Bend.
Amenities: This hostel is the oldest brick building in Bend, Oregon, and comes with free Wi-Fi and free parking, AC, shared bathroom. There is a shared kitchen and a shared lounge at the property. A free complimentary light breakfast is available for guests, along with barbecue facilities.
Price: $
Related: Book Tumalo Lake Lodge And Explore The Magic Of Bend, Oregon
Where To Eat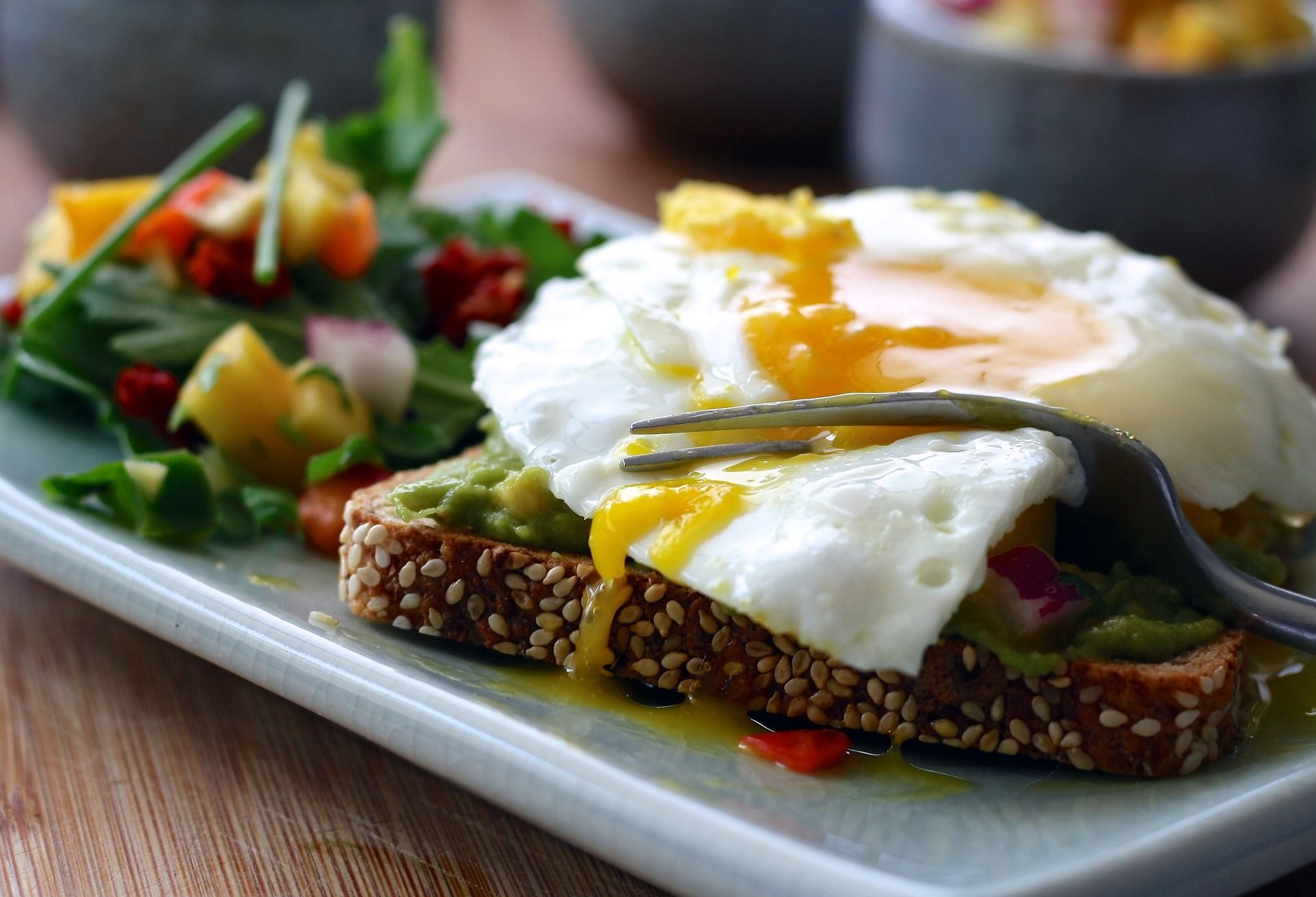 Eating option in Bend
With numerous restaurants, cafes, breweries, food trucks, and small food joints located across town serving classics like steaks, burgers, and BBQ to Thai, Indian, Sushi, and vegan cuisine, Bend offers a wide array of dining options.
Bend is also known for its coffee, plus breweries with local beer.
Mckay Cottage Restaurant
This family-friendly restaurant has been awarded with the Travelers Choice Award and serves some award-winning breakfast and lunch.
The restaurant is located in a historical 1916 craftsman bungalow and offers open seating during summer. The restaurant serves American and Contemporary cuisine with vegan and gluten-free options.
Try lemon ricotta pancakes and cinnamon bread when visiting this place.
Chow
The beautiful restaurant has a small garden and sculptures and provides locally sourced breakfast and lunch with outdoor seating.
The restaurant opens at 7:00 in the morning, and the live music on weekends is famous among locals. Explore their long menu and try corn beef hash and seasonal pumpkin pancakes when visiting this place.
Jackson's Corner
Operating since 2008, this beautiful restaurant features a fresh and exciting menu of salads, sandwiches, soups, pasta, and house-baked bread made from fresh, locally sourced ingredients.
Try Honey Pie pizza and salad—and Gelato for dessert.
Sparrow Bakery
A great choice for breakfast, lunch, dinner, and brunch. Famous food options here include ocean rolls, Non-Bacon-Breakfast-Sandwich, Yoly's Torta, The-Haze-Special for kids, Sparrow-Beignets, Bakery-Mimosa, and Gold-Apple-Hard-Cider drinks.
The restaurant operates from 7:00 am to 5:00 pm on weekdays and 7:00 am to 3:00 pm on weekends.
Original Pancake House
Yes, this is the famous Pancake house that originally started in Portland and is known for its unique and original menu. A much-recommended place for breakfast, the recipes here are designed using the finest ingredients.
Their must-try items include Apple Pancakes.
Victorian Café
This cafe has some of the best awards to its name. It has been Voted as the #1 Breakfast in Bend fifteen times by locals, and recently named Best Brunch in Bend by Central Oregon magazine.
The place is often crowded, but the outdoor seating makes room for more visitors.
The restaurant boasts a menu that contains a fusion of classic breakfast items with creative food. The must-try dishes include omelets and eggs benedict. Their Bloody Mary and ManMosa drinks are also famous among locals.
Bangers & Brews
One of the best places to eat delicious food on a budget, travelers visit this restaurant for lunch and to try the famous Bangers and Mash. They also serve great Pretzels and an impressive selection of sausages.
Deschutes Brewery Bend Public House
Deschutes Brewery is one of the best places to have lunch and dinner. They serve the best burgers in town and offer delicious beer with a wide range: They have 19 taps!
The brewery is a go-to spot for locals and travelers alike. Visitors vouch for the great atmosphere, service, food, and beer (Black butte is the favorite beer here).
Spork
Rated as one of the top places for quick bites in Bend, the food truck converted restaurant is famous for Asian cuisine.
Some of the best dishes to try here include spicy fried chicken with cucumber salad, yellow curry with shrimp and pork belly, Lomo Saltado, and the Dab Dan Curry. Travelers have pointed out that all the items here are well-priced.
Zydeco Kitchen & Cocktails
Ideal for dinner, this restaurant is located in downtown Bend and offers Northwestern cuisine with a Southern twist. Must-try dishes here include BBQ shrimp, Wedge salad, Blackened Redfish, special pork chop, and KC strip steak.
Also highly recommended are the warm soft beignets and the tres leches cake.
Places To Go For Beer In Bend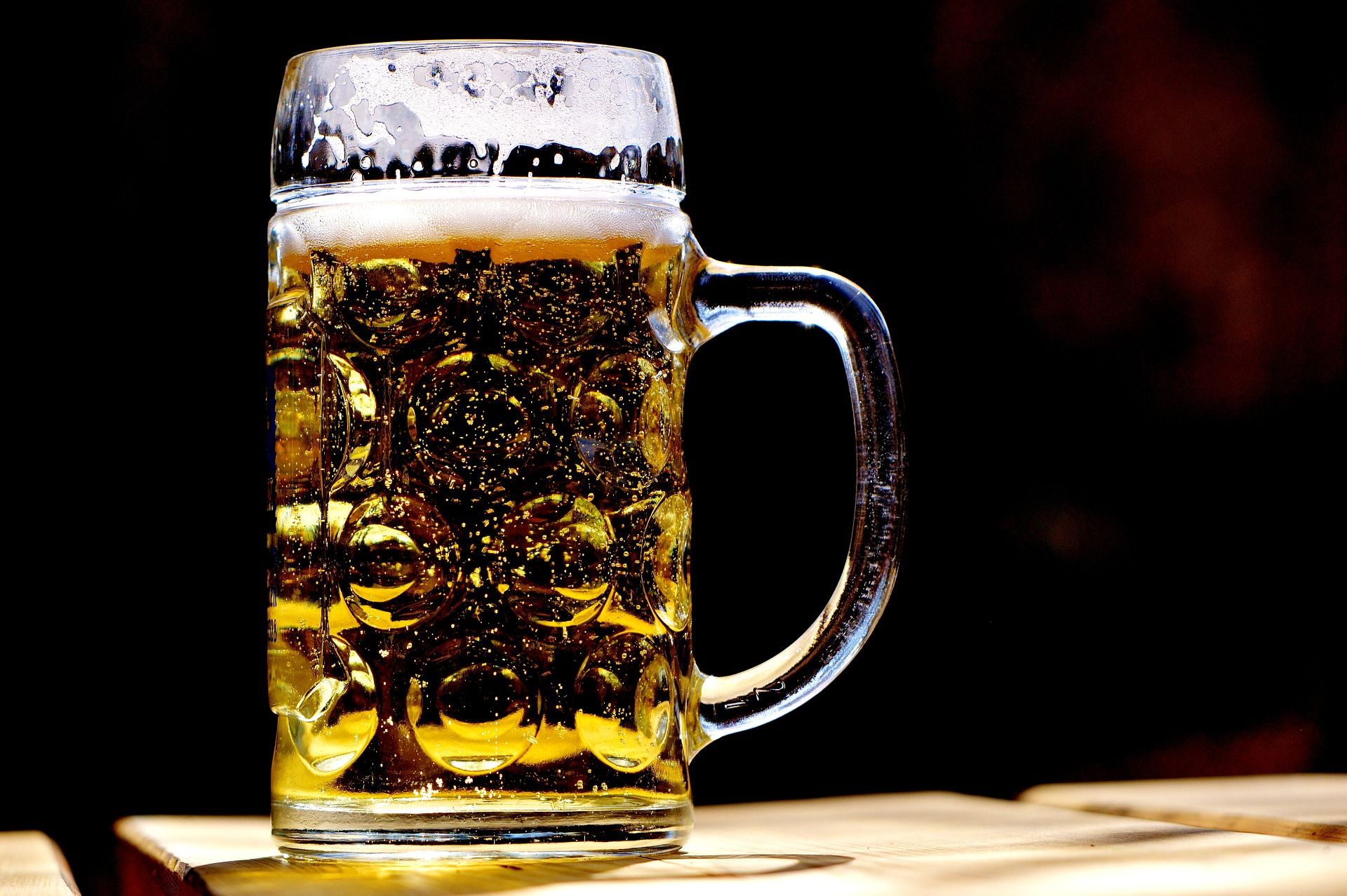 Beer options in Bend
Bend is home to some of the most delicious beers. All big breweries based in Bend have their tasting rooms open. Deschutes Brewery Tasting Room is located downtown and offers some great seasonal brews; this brewery has won many national and international awards.
Overlooking mirror Pond is another award-winning brewing company, Bend Brewing Company, and 10 Barrel Brewing is a highly recommended brewpub that boasts of its tasty beers and food.
Boneyard Beer Pub and Silver Moon Brewing are a couple of other breweries worth trying.
Top Things To Do
Shutterstock
Bend lies between the scenic Cascade Mountains and panoramic high desert plateaus. The town is a haven for outdoor adventure activities and attracts tourists from around the globe looking for an active vacation.
Travelers can enjoy river activities, hike through mountains, or bike through the forest. Bend also offers some of the best food, beer, and shopping venues.
The downtown area is filled with small boutiques that sell authentic locally produced goods, and the Old Mill District shopping area is lined with famous brands. The town also boasts of the year around fests that fill the street of Bend with music and art.
Take a Love of Beer To Bend Ale Trail
Bend Ale Trail is the largest Beer trail in the west with more than 30 stops. Travelers can collect their passports from Visitor Center for $5 or download the free app and navigate from brewery to brewery.
For each brewery they visit, their passport gets a stamp. Travelers can collect stamps to be eligible for a prize at the visitor center.
Enjoy Budding Arts and Entertainment
Bend is a hub for talented artists. Concerts or performance arts are happening across the town all around the year. Travelers can check out Hayden Homes Amphitheater, the Domino Room, and the Volcanic Theater Pub, which attract must-see local talent and popular regional and national musicians.
Seeing great art in Bend is free thanks to public art displays and exhibits that provide culturally rich visual experiences.
The Downtown Bend First Friday Art Walk happens on the first Friday of the month during summer, where local artists share music and art.
Witness the Breathtaking Beauty of Cascade Lakes along the Highway
The foot of Cascade mountain is blessed with several alpine lakes that have fresh water, these lakes are distributed throughout the highway, which makes it 3-5 hours of driving pleasure.
The 66-mile stretch starts from Bend's city center and is accessible from June to October. The Century Drive, or Cascade Lakes Highway, has more than 10 water bodies, some of which are hard to navigate via kayak.
Experience The Thrill of Climbing Volcanoes in Bend
The entire city of Bend is built on Lava fields. There are a lot of volcano peaks that provide a beautiful view from the summits. Travelers can start with Pilot Butte, located in the center of the town, followed by Lava Butte which is approximately 15 minutes south of Bend on highway 97.
The butte is accessible in the summer and is the entrance to Newberry National Volcanic Monument, travelers can spot geometries of frozen lava on this hike.
Travelers taking the Century Drive can explore Mt. Bachelor and South Sister summits. Hiking South Sister requires a permit and is a 14-mile round-trip trail. The view from the top of both these peaks is worth all the effort.
Explore The Activities on The Deschutes River
Travelers can't miss the Deschutes River Float. Travelers can rent an inner tube from any of the local float rentals like Bend Park and Float, take a shuttle to Riverbend Park, launch themselves into the river, and float to Drake Park.
The same path can be covered on foot using the paved path on either side of the road. Travelers can also book half -and full–day tours on kayak, canoe, and paddleboard with Tumalo Creek.
The real adventure is the whitewater tour on the Deschutes River. Several local companies offer rafting, two recommended names include Sun Country Tours and Seventh Mountain River Company.
Peak Around The Downtown and Old Mill District
Downtown Bend is pepped with beautiful little shops. Travelers can buy fun souvenirs and check out some of the award-winning restaurants and breweries in this area.
The Old Mill District, located along the Deschutes River, on the other hand, is the place for Bend's premier shopping, dining, and entertainment experience.
Travelers can take a concert at Les Schwab Amphitheater, go for a run along the Deschutes River Trail, or simply stroll from shop to shop with friends and family.
Visit The Geographic Wonder: The Lava River Cave
Exploration of the cave, known as Spelunking, is one of the most authentic activities that travelers can do in Bend. The town is full of Lava caves ready to be explored by enthusiasts. One such cave is the Lava River Cave at National Volcanic Monument.
When travelers are ready, a small trail takes them to a different world. The temperature in the caves drops quickly. The whole experience is very fascinating, and travelers can spot a bat habitat if they are lucky!
Take a Hike on The Misery Ridge Trail at Smith Rock State Park
It's not an easy hike, but the landscape and view from the top are amazing, unlike anything that travelers have witnessed anywhere before. The iconic rock, also known as Smith Rock, resembles an alien world.
The summit offers a spectacular vantage point of the Cascade Range.
Witness the Spectacular Sunset at Sparks Lake
Lake Sparks is an easy trail of a 2.5-mile loop. It offers the most beautiful sunset setting that travelers can cherish. The lake is surrounded by three towering peaks: South Sister, Broken Top, and Bachelor Butte.
The place gets really busy during the season, so plan accordingly.
Get the Snowboard Rolling at Mt. Bachelor
Winter in Bend opens up all sorts of winter sports at Mt. Bachelor, the 6th largest and one of the most budget-friendly ski resorts in the country, and attracts tourists from around the States to experience the incredible winter outdoor sports.
Be it skiing, snowboarding, or snowshoeing, Mt Bachelor has it all. Visiting during summer is another thrilling experience on the mountain with hiking trails and mountain biking.
Watch the Beautiful Sunrise from Tumalo Peak
This is one of the best hikes in Bend where the summit offers a breathtaking view of the alpine wilderness. Take the snowshoeing trail during winter, and start early to catch the first rays of the sun!
Witness an Out Of The World Scenery at Tumalo fall
Nestled in a thick forest, the fall looks dramatic and beautiful simultaneously. The main viewpoint is near the parking, but travelers can hike to the top of the fall to catch the best viewing angle.
The trail is well maintained and short, with few small waterfalls along it.
Related: 10 Unusual Things You Should Explore In Bend, Oregon
Enjoy Various Events Happening in Bend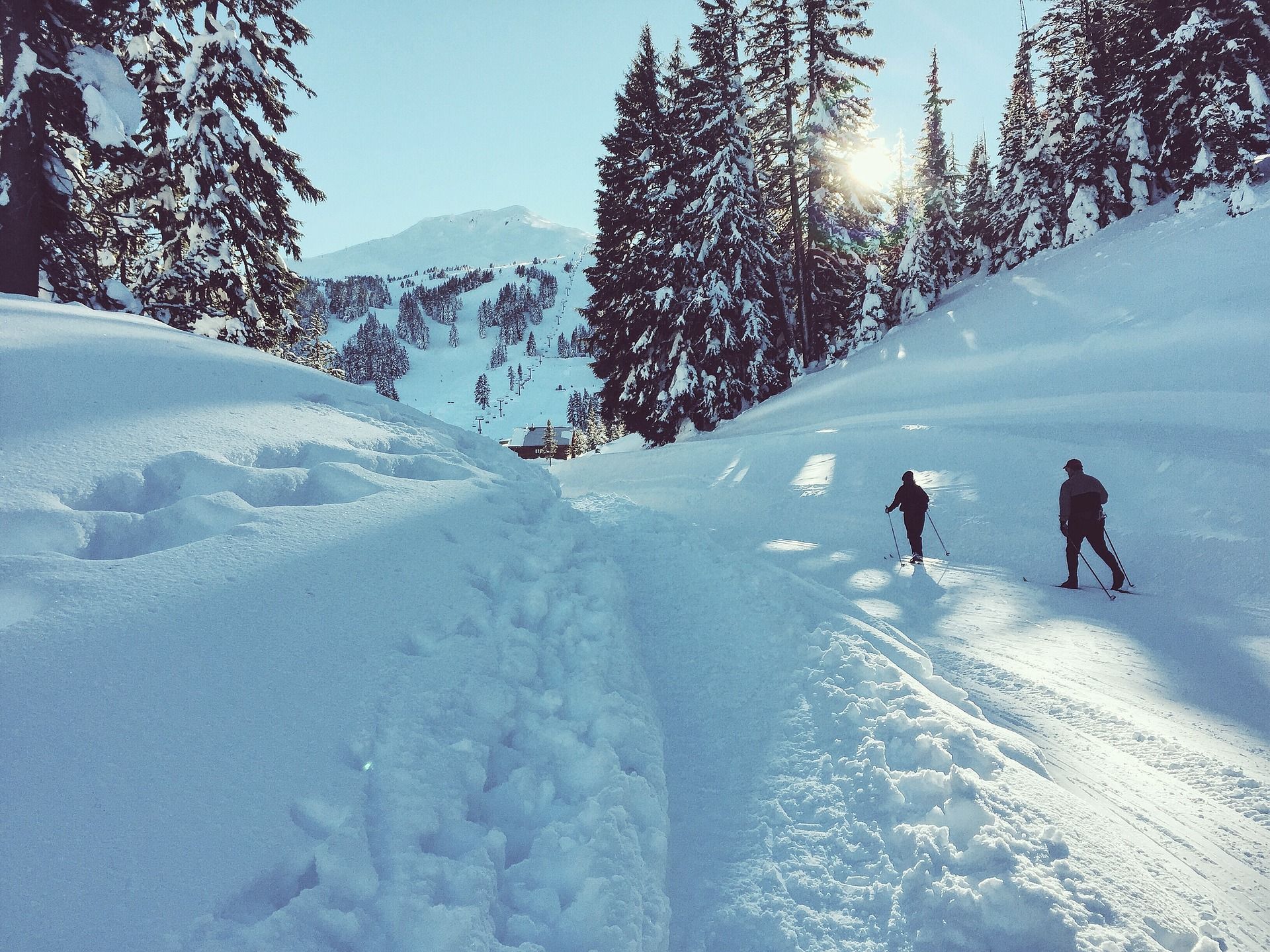 Skiing in Mt. Bachelor, Oregon
There is always some event or fest happening in bend. The fun-loving town offers a variety of events ranging from art walks, outdoor concerts, marathons, and bike races, to fest related to food and beverages.
Seasonal events like Oregon WinterFest, Bend Summer Festival, and Balloons Over Bend are some of the famous and recommended events to attend based on the travel season.
For art and music lovers, Bend offers the following events: Art in the High Desert, First Friday Art Walk, and a live outdoor concert at the Hayden Homes Amphitheater.
How To Spend A Perfect Day In Bend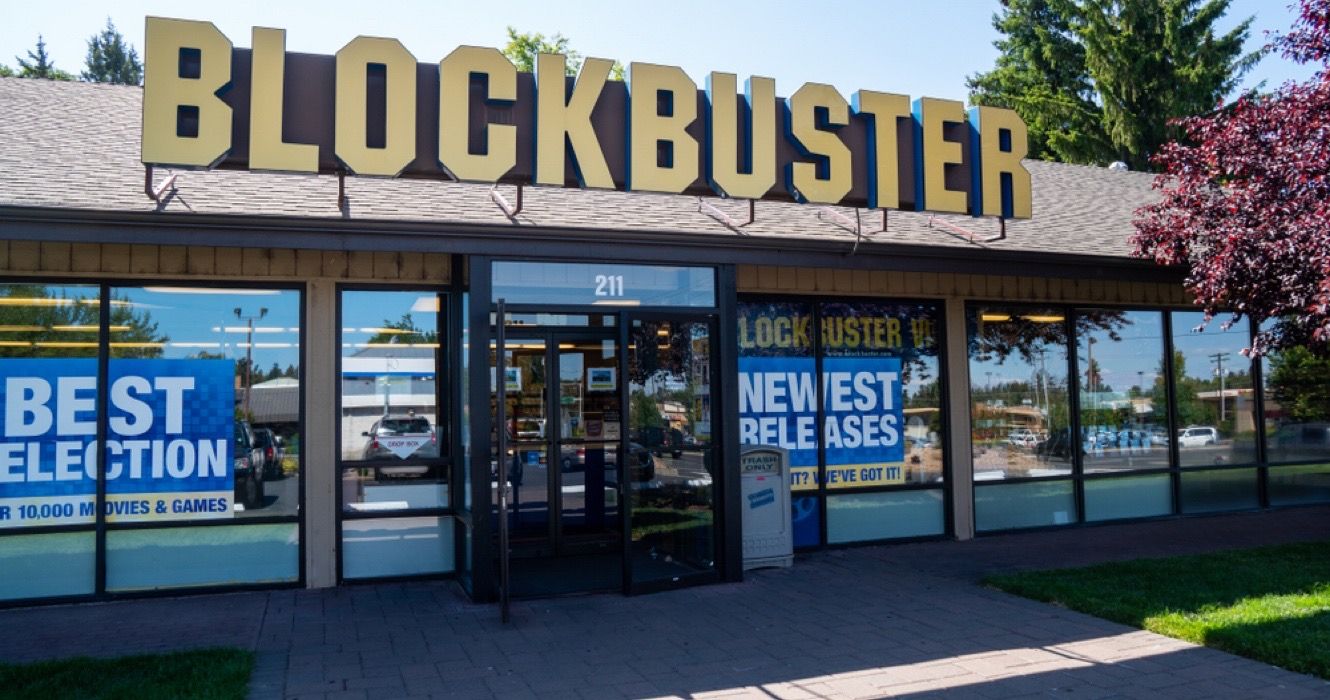 Last remaining Blockbuster Video rental store in the USA, Bend, Oregon
If the time is less and the energy is immense, taking the day tour from Wanderlust Tours would be a great way to experience Bend in a short time.
Travelers planning on their own can start the day early to catch the sunrise from the Tumalo Peak hike, followed by a visit to Tumalo fall. By then, it will be time for breakfast.
Related: The Hub Of Central Oregon: The Ultimate Travel Guide To Redmond & Things To Do
Visit The Last Blockbuster store on Revere Avenue, or roam around downtown or Old Mill District before getting ready for float in Deschutes River.
Visitors can also take rafting if looking for adventure activities. After a local lunch, travelers can use the evenings exploring art and concerts at Old Mill District or taking the Sparks Lake hike to watch the beautiful sunset.
Late in the evening, head to Deschutes Brewery Tasting Room for a brew and dinner.
FAQ
Q: What is Bend Oregon famous for?
Bend is famous for outdoor activities and offers a range of hikes, lava cave exploration, rafting, skiing, and biking among many other activities. Mt. Bachelor near Bend is one of the ten most budget-friendly ski resorts in the country.
Q: Why is Bend Oregon so popular?
Bend might be a small town, but it's known as one of Oregon's gems for its central location between the Cascade Mountains and lakes, hiking trails, and more. It also offers many unusual adventures to travelers.
Q: What major city is Bend Oregon close to?
Bend, Oregon isn't far from Redmond, which is known as the hub of central OR. In 20 minutes, visitors can arrive in Redmond and explore everything the city has to offer, then head back to Bend for more adventure.