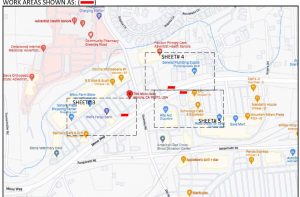 Areas Comcast Plans to Address in Sonora's Mono Way
Sonora, CA – Expect driver delays on Thursday night when traveling on the Sonora monoway.
Comcast is working with Livermore's SEFNCO Communications to perform joint operations at three separate locations on Mono Way on either side of the Greenley Road intersection. One lane must be closed for each area that requires work. One is just past the Sonora Plaza Shopping Center sign in front of Wells Fargo Bank. The other is just past the Diana J. White Cancer Institute building across from Timberhills shopping center, and the third is in front of the Tuolumne Me-Wuk Indian Health Center, formerly the Front Porch building. I have. The locations of the three worksites are also indicated by red rectangles on the image box map provided by Comcast.
Work will take place on Thursday, January 26, from 7:00 pm to 7:00 am, with signage and personnel at each site directing drivers.